I am going to admit something that's not very popular. Are you ready? I am a huge fan of Brussels sprouts. Scandalous, I know. They've always been something that was on our family table, and no one had issues with them. These Pan Roasted Brussels Sprouts with Balsamic Glaze are going to make you fall in love, too.
The combination of the smoky roasted Brussels sprouts, and their natural sweetness coming out, paired with the slightly tangy balsamic glaze really makes this a dish worth trying.
Pan Roasted Brussels Sprouts with Balsamic Glaze
Links may be affiliate links. We'll make a small commission if you purchase through them.
You'll want a couple things for this recipe. The first is a really good balsamic vinegar. Don't go el cheapo on this. You're also going to want to use real maple syrup. Not that Auntie Butterville stuff. Trust me on this. The flavors are going to be so much better. Now, as a shortcut, you can use frozen Brussels sprouts. Just dry them fairly well with paper towels or a clean dishcloth.



Yields 4
Pan Roasted Brussels Sprouts with Balsamic Glaze Recipe
A delicious recipe for pan roasted Brussels sprouts with a little twist - an amazing sweet and savory Maple Balsamic glaze.
10 minPrep Time
20 minCook Time
30 minTotal Time
Ingredients
2 T. extra virgin olive oil
1 lb. small Brussels sprouts, rinsed and cut in half
Salt and black pepper, to taste
1/3 c. balsamic vinegar
1 T. real maple syrup
Shredded Parmesan, for garnish
Instructions
Place oven rack in center position and preheat oven to 400°F.
Heat olive oil in a large cast iron or other oven-safe skillet over medium-high heat. Add Brussels sprouts to skillet and season with salt and pepper, to taste.
Cook for several minutes, stirring occasionally, until the sprouts begin to turn brown.
Once browned, transfer the skillet into the preheated oven and roast for 15-20 minutes, stirring halfway through.
Remove sprouts from oven once they are tender and start to turn a rich brown color.
While the sprouts are roasting, add balsamic vinegar and maple syrup to a small skillet and heat over medium-high heat. Bring to a boil, stirring constantly, then reduce heat to medium. Continue stirring until the vinegar mixture reduces to about 1/3 of its original volume and becomes thick and syrupy.
Don't overcook or it will become too hard and sticky.
To serve, transfer Brussels sprouts to a plate and drizzle lightly with balsamic glaze. Season with salt and pepper, and sprinkle with freshly grated parmesan, if desired, and enjoy immediately
7.8.1.2
11
https://knifecorkandspoon.com/pan-roasted-brussels-sprouts-with-balsamic-glaze-recipe/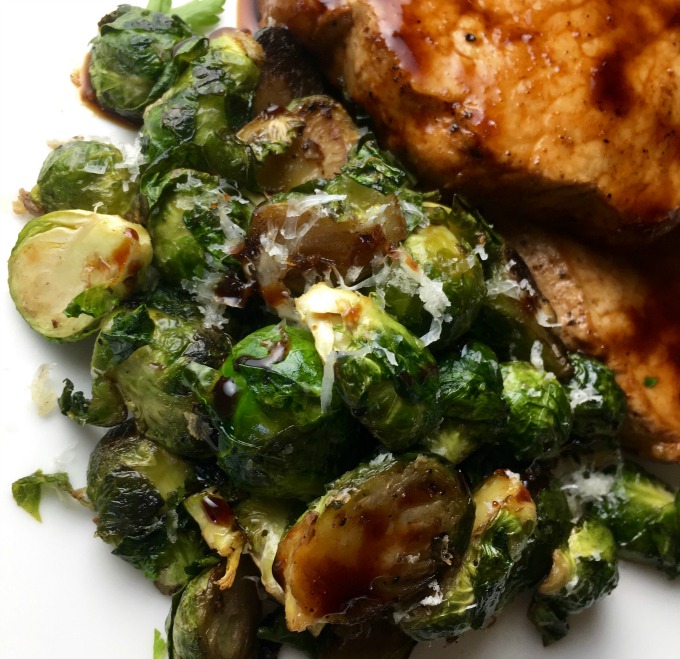 The pan roasted Brussels sprouts make a great side dish for a holiday meal. It can easily be doubled or tripled for a larger crowd. The recipe is so simple and easy, but your family will think you worked so hard. Don't worry, I won't tell them how easy it really is.
These also make a great accompaniment to a myriad of proteins, like these amazing Maple Balsamic Pork Chops, grilled chicken, or even a nice piece of fish.
Have you tried pan roasted Brussels sprouts? Are you a fan or are you more Team Nah?